201 Emory MDF Adjustable Surround
Flexible space solution!
No. 201 Emory MDF Adjustable Surround shown fully expanded with plinth bases. MDF white paint.
Expands in both height and width. Use plinth bases to extend height.
---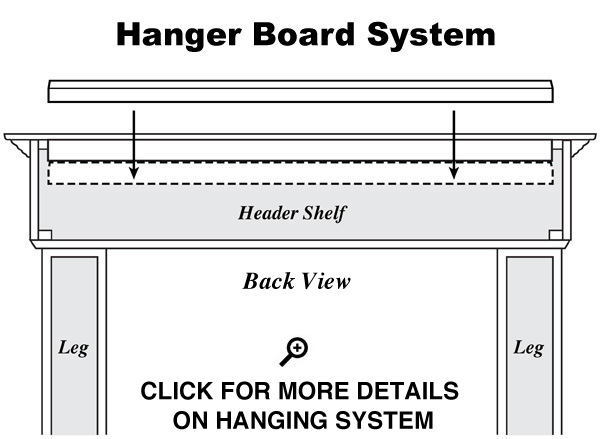 No. 201 Emory MDF Adjustable Surround Specifications


MDF White Paint.
No. 201 Expands
From:
To:
Shelf Length:
48"
80"
Main Shelf Depth:
8"
Shelf Depth of expanded wings:
7.5"
Interior Width:
37"
69"
Interior Height:
42"
48"
Overall Height:
49"
55"
Leg width without added plinth:
5.5"
Leg width with plinth added:
7"
Plinth height:
8"
&nbsp
Plinth depth:
7.875"
&nbsp
Outside leg to outside leg at base without plinth:
48"
80"
Outside leg to outside leg at base with plinth:
51"
83"
---
&nbsp
&nbsp

&nbsp
&nbsp
Mantels are hand painted, hand distressed and Cast Stone mantels are hand poured. Actual finish colors, textures and distressing may vary from photos.
Our photography serves to visually present our mantels in a suggested lifestyle setting. Only the mantel is available for sale.
Note: For all surrounds and shelves: hardware is not included to attach the hanger board to the mounting surface.
Pearl Mantels is a leading manufacturer of fine furniture quality wood and MDF mantels, shelves, and adjustable mantels and shelves for the fireplace and the home. Pearl also manufactures (patented) non-combustible shelves, (patent pending) non-combustible surrounds, and a line of cast stone shelving for indoor and outdoor use. With over 30 mantel and shelf designs, Pearl continues to innovate and design furniture quality products that meet the needs of consumers, designers, home builders and contractors. When you decorate your home, pick a Pearl. Visit our distributor page or search the internet to find a Pearl Mantels dealer near you. Copyright © Pearl Mantels Corporation ®. All rights reserved.